National Fatherhood Initiative recently launched
March Dadness: Tips for Coach Dad on Leading Your Team to Victory
, inspired, of course, by the March Madness NCAA tournament. Here at the NFI office, we'll be turning in our brackets for the office pool. At home, my dad and three brothers are finalizing their brackets. I asked my dad (father of seven) to share some fathering perspectives on this annual event. Here'
s his thoughts...
March Madness is one of our favorite times of the sports year because it affords three weeks of friendly competition between my three sons and I. We're a basketball family - all my kids play it, I coach it, and we follow it on ESPN. From the Jeremy Lin sensation to Duke's buzzer beater over North Carolina to sitting in the stands watching my ten-year-old twin daughters compete on Saturday afternoons, to say we like basketball would be an understatement. This March, like every other March, we'll be filling out brackets and tracking teams en route to the Final Four and National Championship.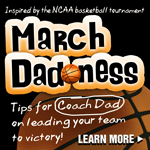 As a dad, I've found this to be one of the ways to connect with my kids in a friendly, competitive environment. This works for both the teenagers still at home and those who are far from home - my 23-year-old son serving in the Air Force in Utah emails his bracket to us and calls home to join the pre- and post-game commentary. My sons are pretty competitive when it comes to researching teams as they fill out their bracket. The Monday morning
USA Today
newspaper with the full section on March Madness is passed around among the boys. My daughters, on the other hand, are more interested in watching the teams they like than in the bracket competition and will join their brothers around the TV at game time. (My 18-year-old daughter, however, did secretly make her own bracket last year.)
The lesson I've learned through this is that opportunities to have positive experiences with my kids, instead of always being in the mode of correcting attitudes and behavior, are valuable. Finding common interests and spending time together is important to building relationships, communicating love and value, and balancing the times when discipline and correction are required as a parent. It doesn't have to be basketball to successfully build an enjoyable experience between father and sons and daughters, but events that can be looked forward to and reoccur on a periodic basis (like March Madness) become a lifelong memory and something that both dads and kids can anticipate.
Dads, if you want to institute a family March Madness competition with your kids, download a bracket here. Sign-up for the Dad E-mail to get our latest March Dadness updates!