Nothing prepares you for fatherhood. When I say nothing, I mean nothing.
Read a book before having kids, have kids, and then let me know how it works out for you. You can learn all kinds of things about parenting before becoming a parent, but until you actually have kids, you don't know what you don't know.
I had no idea what was coming my way when each of the two beautiful princesses you see in this image came into my life.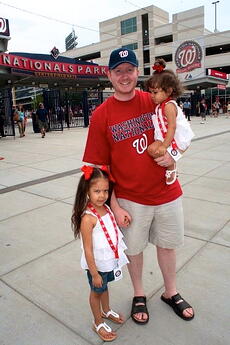 I speaketh from experience. I've been a dad for five years. Five years! Actually, I've been a dad for seven years cumulatively. But who's counting? I can't believe it. My, oh my, where does the time go?
With all my seven years of cumulative parenting comes experience. I know things I never knew I would ever know. Dads, you know what I'm talking about. Some things can't be un-learned. For example, tossing your first-born daughter in the air repeatedly after she's ingested large quantities of popcorn and milk isn't the best idea ever. I'll save the discussion of projectile vomiting for future posts. For now, know that popcorn/milk/tossing-your-kid-in-the-air is likened to the Mentos and soda experiment – results do not vary.
Speaking of daughters, I am blessed with two daughters, ages five and two. They are the most precious things in my life (in addition to my wife, of course). They make my life difficult, fun, interesting, and sometimes annoying -- but always better.
You will hear more than you ever wanted to know about each of them in the coming posts. The above image was taken on Father's Day last year. I was new to Washington, DC and new to baseball actually. I'm pretty sure it was my daughters who told me the "Washington Nationals are the best team ever." So, last Father's Day I got to see the "greatest baseball team ever" play baseball and did so with the two cuties pictured above.
The above photo is a metaphor for my role at NFI. Stay with me here. I promise to be genuine with this platform. If you notice, I'm smiling in the picture. That's because most days, I smile. But also notice this image isn't perfectly done in a studio, because parenting isn't done in a studio under perfect lighting with a team of directors all working to get your kids facing the camera (On second thought, a team of directors would've been helpful for this image, but I digress.).
Before joining NFI, I was in leadership at churches in Tennessee and Virginia. Born and raised in Tennessee, for several years after undergrad I was a writer and editor for a large publisher in Nashville. Most recently, I served in communications as a writer at Prison Fellowship Ministries (PFM). I hold a Bachelor of Science in Psychology and a Master of Divinity. I had the privilege of studying under Chuck Colson for over a year before working for him. Working with Mr. Colson, I experienced living proof that individuals can shape culture.
Writing at PFM, I learned the impact of incarceration on families and communities. Knowing 1 in every 31 adults in America is under correctional control changes why you wake up in the morning.
Knowing most of the people behind bars either had an incarcerated father or are fathers themselves should change our actions and commitments. More than ever, I understand we must educate and enlist fathers to be dads – not only in prisons – but all around us. As fatherhood goes, so goes society, for good or bad.
I'm excited to be on the NFI team, contributing to and stirring the fatherhood conversation. I've been a father long enough to learn a thing or two – long enough to make a few mistakes and do a few things correctly.
Looking at the above image, I can't believe a full year has passed since last Father's Day. Time really does fly; we're all busy with our daily routines. But I'm excited in hopes of connecting with other dads who are sharing the same pressures, worries and all things in between. I'm learning about fatherhood as I go; let's learn from each other – especially from our mistakes! Stay tuned for my mistakes; I'll be sure to write about them. I may also throw in a victory or two now and then.
Connect with me on Twitter. I promise I'll reply to all tweets.