National Fatherhood Initiative is nearing the close of our fiscal year at the end of September. We have a lot of exciting things planned for FY-2013 and we're looking forward to bringing you more expert advice for dads, fatherhood perspectives on events in pop culture and the news, and practical resources to help you in your fathering journey.
But we can't do this without your support. We need to raise an additional $20,000 by the end of the month to enable us to activate the plans we have to change the lives of more dads and families next year.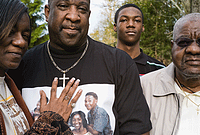 Marvin Charles of Seattle, Washington, (pictured here with his wife, son, and father) is one of the dads whose life has been touched by National Fatherhood Initiative's work. His example as a role model and his commitment to helping others is impacting dads in his community who need a second chance.
Marvin's story was captured by Lewis Kostiner, a photographer who traveled around the country at his own expense to meet dads who participated in NFI's fathering programs through their local communities. Mr. Kostiner's photographs and the stories of these families are collected in an inspiring book, Choosing Fatherhood: America's Second Chance.
Mr. Kostiner describes the role that Marvin plays in the lives of other dads and his own son:
Marvin Charles [...] spent most of his time keeping tabs on all the fathers and children in the National Fatherhood Initiative program whom he helped in his district. He picked them up and dropped them off and told them how to do this and how to do that. He never looked down on any of them, and his presence helped organize and prepare the children for their everyday journeys and, for the men, fatherhood. His clients struggled daily to survive, and he knew it. He did what he could to help them along. […] Marvin was a real community organizer, in the true sense. He was […] [there] to help kids and their dads. In his son's eyes, Marvin could easily have been elected Mayor of Seattle. Marvin carried his family's picture around with him all day long on his T-shirt, right in front of his heart.
Marvin and the dads he helps represent real-life families whose lives have been changed through NFI's work. These "second chances" are possible because of the support of people just like you.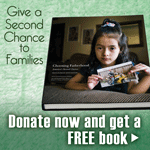 Will you help us give a second chance to more families in the next year?
Donate $100 or more today and we will send you a FREE copy of Choosing Fatherhood: America's Second Chance.
If you can't donate $100 or more, any amount will make a difference in helping us reach our goal for the fiscal year and start next year on the right foot! Thanks for your support!