This is a guest post by Jon D. Wilke. Jon is the media relations manager for a major religious non-profit organization and a former U.S. Marine. He is a married father of two young daughters. Follow his blog at jonwilke.worpress.com or on Twitter at @jon_wilke. He writes this post for NFI's "The 12 Dads of Christmas." If you are interested in writing for us, send an email.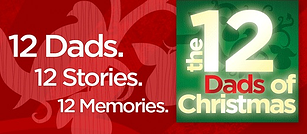 For many children, the Christmas season is the most special time of year. In their little minds, the holidays brings new toys, candy, cakes, time off from school, parents possibly off from work and maybe even playing in the snow.
As Dads, this is our time of the year to shine. We can make lifelong memories, set family traditions and provide eternal perspective on this treasured time.
A few years ago, I read an article by a prominent Christian pastor that challenged me to become intentional about Christmas and not be a passive spectator. It challenged me to take charge of my family's celebration and holiday schedule, set priorities and limits and focus on giving my time, my efforts and my love.
Last year, my wife and I started an Advent tradition that some call "The Jesse Tree." Every night between Thanksgiving and Christmas Eve, we gather our family around a small tree where I read or tell a short story from Scripture relating to the birth of Jesus. My oldest daughter gets excited, because every night she gets to hang a new ornament on this little tree. We end with a short prayer that's connected to the Scripture and the ornament.
All this may sound costly, but our tree was about $15, and my wife printed paper ornaments from the Internet and laminated them. There are numerous guides online as well. While this may sound boring and rote, it's simple. This 3-5 minutes a night routine has become the core of our Christmas celebration.
My kids will never forget the next tradition. On Christmas morning, after opening gifts and having playtime, we eat birthday cake for breakfast and sing "Happy Birthday" to Jesus. While we eat, we listen to a short reading of the Christmas story from the Bible. We talk about what happened in the story and reflect on the gifts given to the baby by the wisemen.
Other family traditions include:
• Driving my family around looking at Christmas lights.
• Watching classic Christmas movies like "How the Grinch Stole Christmas" and "Charlie Brown."
• Drinking lots of hot chocolate.
• Taking my family to church.
• Giving back to community and global needs.
• Helping decorate without grumbling.
Many of the ideas above come from various places. My kids and wife don't care where I got the ideas nor the motivation—they care about Christmas because I care about Christmas.
There's more peace and joy in our house, my wife smiles more and my children are beginning to understand Christmas for what it really is.
Join in and share your most memorable holiday by recording a video, sharing a picture, or posting a comment on this blog, Facebook or Twitter @TheFatherFactor.