This is a guest post by Chef Madison Cowan. Madison is a dad, husband, CEO of Madison Cowan LLC, author, producer, Food Network's Iron Chef America & Chopped Grand Champion. Find him at Madison Cowan, follow him on Twitter @Madisons_Ave and on Facebook. He writes this post for NFI's "The 12 Dads of Christmas." If you are interested in guest blogging for us, send an email.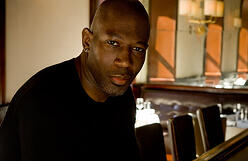 Christmastime for most of us is full on with memories. Whether of religious observances or the thought of gathering with loved ones to share cheer and compliments of the season. I recall as a child the magic of the holidays: playing in the snow, picking out a tree, the joy brought on by an original Marx Rock`em Sock`em Robots game, or the tantalizing aroma of Christmas lunch wafting throughout the house.
These are just a few traditions I've held onto and now share with my own family. It is equally important we not forget all those less fortunate children and families, struggling daily to make ends meet or put food on the table, or who won't have a Christmas…again. From the age of 2 I've exposed my daughter to a life of volunteering and service to others as the spirit of giving extends well beyond this time of year.
That said, one of my favourite holiday memories is making a large batch of my mum's 7UP pound cake with my daughter a few years back to donate to a food pantry in London. Buttery, crunchy topping and feather light texture, her secret was to weigh or measure the flour again after sifting then mix everything together at once. Swans Down cake flour, a vintage metal crank sifter and an egg cracking munchkin evoked warmth of Christmases past.
The power is in the present moment, so pop in that Rudolph or Frosty DVD, put on Nat King Cole's "The Christmas Song" and get stuck in creating new traditions with your lil' ones…this Christmas and always.
Jean Bean's 7UP Pound Cake

Unbleached cake flour 3 cups, sifted
Unrefined cane sugar 2 cups
Unsalted butter 1 lb., softened at room temperature
Eggs 6, room temperature
Pure vanilla extract 1 tsp.
Lemon extract 2 tsp.
7up lemon soda ¾ cup, room temperature
Heat the oven to 375F. Place the flour into a large mixing bowl and make a well in the center. Add the remaining ingredients and blend with an electric hand mixer until smooth. DO NOT OVERMIX.
Butter and lightly dust with flour a fluted cake tin or 2 to 3 loaf tins. Carefully pour the mixture into the tins as not to pack tight and bake mid-oven for 1 hour 15 minutes or until golden brown and an inserted table knife comes out clean.
Another tip is to keep the oven door closed and check doneness only after the first 50 minutes. Let stand for 10 minutes and remove from tins. Serve simply with fresh seasonal fruit or berries, whipped cream or icing sugar. Serves 12 to 15
What family recipe makes the holiday special for you?
Join in and share your most memorable holiday by recording a video, sharing a picture, or posting a comment on this blog, Facebook or Twitter @TheFatherFactor.