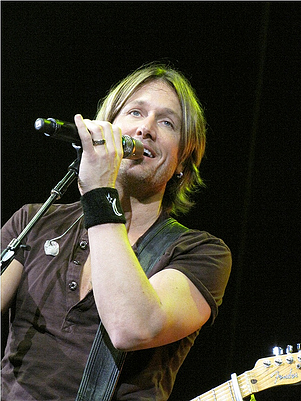 This week we have reached the perfect connection in romance and social media! Not only is today #ThrowbackThursday; but it's also Valentines' Day! We have a blog post from back in the day about Keith Urban and his view of...guess what? Marriage! That makes this #ThrowbackThursday post the perfect romantic post for Valentine's Day! Because what's more romantic than a celebrity who knows that loving his wife more than his kids is ok? Answer: nothing. Nothing is more romantic! Happy Valentine's Day, parents!
From the American Idol page:
Keith Urban has sold more than 15 million albums, is a four-time Grammy Award winner, and has won a People's Choice and American Music Award.He's won five Academy of Country Music Awards and had 14 No. 1 songs, including 28 Top 5 hits. In 2012, he became a member of the Grand Ole Opry. His latest CD, "Get Closer," comes on the heels of his fifth consecutive platinum or multi-platinum release. It has produced three consecutive No. 1 singles: "You Gonna Fly," "Long Hot Summer" and "Without You."
From our throwback blog post on Keith Urban, Loving Your Spouse More Than Your Kids:
Urban recently revealed in an interview that he loves Nicole more than their two children. To do justice to what he said, I have copied the entire quote here:
"We're very, very tight as a family unit and the children are our life, but I know the order of my love. It's my wife and then my daughters. I just think it's really important for the kids...There are too many parents who start to lose the plot a little and start to give all their love to the kids, and then the partner starts to go without. And then everybody loses. As a kid, all I needed to know was that my parents were solid. Kids shouldn't feel like they are being favoured. It's a dangerous place."
We at NFI think what Urban said is worth repeating—perhaps today would be a great day to show your wife that she is more important to you than anything in the world—even more important than the kids!
We commented in the throwback blog post:
But research seems to back Urban's mentality. Generally speaking, the most important relationship in the home is the one between mom and dad. As Urban states, if their relationship fails, everyone loses. While we don't yet have research that shows specifically that marriages in which the spouses love each other more than the kids produce "better kids," we do know that kids who grow up in married homes do better, on average, across every measure of child well-being. We also know that divorce is not good for children. We also know that parents who are married to each other are closer to each other and to their kids than parents in any other family structure. Put that all together, and what Urban says looks pretty good.
What's one thing you will do today to show your spouse takes priority over your kids?