Ever wonder how father friendly your organization is? It's time you find out! You can with our Father Friendly Check-Up™. This free webinar is a great opportunity for you to examine and assess your organization's father friendliness by looking at the 8 pillars of leadership that affect father involvement in your programs—for free!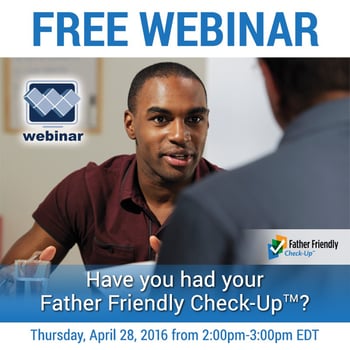 Here are the details:
Who > Join NFI's Vice President of Marketing, Melissa Steward and Ryan Sanders, NFI's Director of Marketing and Communications, as they share insights into how to examine and assess your organizations father friendliness.
In this free webinar, you will learn the following:
How to use NFI's free, comprehensive Father Friendly Check-Up™ to help you identify no-cost and low-cost strategies for how to create a father-friendly organization (or to improve its father friendliness) in 4 areas: Leadership Development, Organizational Development, Program Development, and Community Engagement. You'll learn about the best way to implement the check-up and its results for maximum impact, based on the use of it by thousands of organizations in every sector of society. We'll take you through it step-by-step including how to score it and interpret your score.
8 "Pillars of Leadership" vital to creating a father-friendly organization.
We'll share case studies of organizations that have effectively used the check-up. We'll also draw from NFI's insights generated by the use of this fantastic tool during NFI's National Responsible Fatherhood Capacity-Building Initiative, the most comprehensive federally-funded capacity-building initiative ever undertaken around father involvement.
What > Free Webinar titled How Father Friendly is Your Organization? Find Out with NFI's Father Friendly Check-Up™
Date > Thursday, April 28th, 2016
Time > 2:00pm - 3:00pm EDT
Where & How > It's online and it's free!
Click here to register for this free webinar and please share this opportunity with other leaders.
Are you a dad looking for help? Please visit our Fatherhood Program Locator™ and enter your city and state on the map to find programs and resources in your community.