At NFI, we talk a lot about the programs and resources we have for purchase. But did you know that we actually have MORE free resources than we have for purchase?
When folks visit our Resource Library at fatherhood.org, they sometimes feel overwhelmed. That's why I'm here to bring your attention to three of our free downloadable ebooks that can help boost your fatherhood program.
Fall is for Movies
At least in my book it is! Who doesn't like to cozy up with a blanket and some popcorn to watch a good movie when it's chilly outside?
Why not take a look at our list of 46 Fatherhood of the Best Fatherhood & Family Films ebook and pick one or two for a family movie night? Each of them has a fatherhood or family focus that will surely fit some aspect of the work you're doing. Or, pick a few of them and use clips to illustrate specific points of discussion you'd like to cover in your next group or mentor meeting.
5 Questions Every 24/7 Dad Asks
Even if you aren't running our 12-week 24/7 Dad® curriculum, you can still use this free ebook to create conversations with the dads you serve around the 5 questions every 24/7 Dad asks. These questions are the basis of the complete program, and help dads reflect on the type of father they are (and can become!). Use it for your next group discussion, one-on-one meeting, or even on social media to start some interesting conversations!
The questions are:
How well do I know myself?
How well do I care for myself?
How well do I "father?"
How well do I "Parent?"
How well do I relate?
Use this ebook to help dads connect with their children and families in a meaningful way.
Mentoring Fathers Around You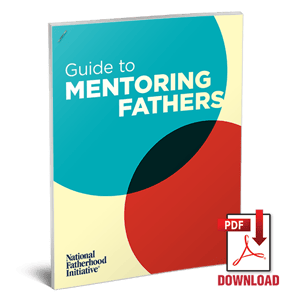 If you or someone you know is already a father, you both have a wealth of knowledge that you might not even realize that you have. This information and knowledge should be shared. There are plenty of dads out there who aren't sure if they are doing the right "thing". Frankly, many aren't even sure what it means to be a good dad.
That's where you can help, and our free Guide to Mentoring Fathers offers tips for doing just that. The guide will help you:
Identify a father who needs a mentor
Invest in the father and build a relationship
Point out activity ideas for fathers
Ways NFI can help you help fathers
BONUS RESOURCE!
Our "companion" ebook to the one above is The Guide to Mentoring Fatherless Children. Check it out to learn how to be a mentor to a child who is living without their father.