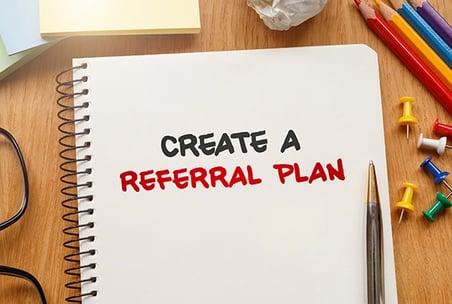 The top challenge organizations face is recruiting dads into their community-based fatherhood programs.
As I recently helped a collaborative explore ways they could increase the number of dads who attend their 24/7 Dad® and Understanding Dad™ programs, it hit me: the best thing they can do is to create and manage a referral plan.
So, what is a referral plan and how do you create one?
A referral plan is a formalized process to create and track referral sources to increase the number of dads who attend your fatherhood program. This is critical to your recruitment success because referrals are the lifeblood to any group-based program.
I've rooted this process in The Asset-Based Community Institute's Asset-Based Community Development (ABCD) approach, which is at the center of a large and growing movement that considers local assets as the primary building blocks of sustainable community development.
So, how do you uncover untapped referral sources? This is where the ABCD can help you categorize your communityin ways you never thought of. Here are the categories to build your referral plan around:
Local Institutions
Business & Industry

Health Services

Social Services

Economic Development

Schools & Colleges

Cultural

State Parks
Citizen Associations
Churches

Social Groups

Recreation

Occupational

Book Clubs
Individuals
Dads

Moms

Grandparents

Friends

Mentors
Here are some steps you can take to develop your referral plan:
Meet with a team of 3-5 people and, using the categories above, brainstorm which organizations, businesses, churches, and agencies you should reach out to.

Divide that list among your team to follow up.

Develop a script or presentation that summarizes the main points and benefits of your fatherhood program.

Create a shared Spreadsheet so everyone can see who has agreed to be a referral source and who hasn't.

Give your team a deadline of no more than 2 weeks to contact their list.

Follow up with your team once per month to monitor the referral sources and results.

Have your team follow up with referral sources at least once per quarter to give them updates and remind them to continue referring.
Remember, the key to a successful plan is to think creatively under each of the categories I detailed earlier. For example, you might reach out to the hospitals and birthing centers in the "health services" category and ask them to refer new and expectant dads to your program.
You might consider targeting moms who are already involved in your programs and services under the "individuals" category. We have resources to help mom understand the important role dad plays in the well-being of their children. As mom becomes more aware of this dynamic and learns how to better communicate with dad, she can become a great referral source for you.
You can also create referrals from rarely used sources such as the "business & industry" sector by helping employers see the value to their bottom line. Research has shown that helping men be better dads can be good for business by helping to recruit talented workers; lower worker turnover; and boost morale, worker productivity, and profits. Consider holding your fatherhood classes right in their workplace.
If you don't have a formal fatherhood referral plan, I encourage you to invest the time and effort to create one. You may be surprised at the results as dads come to your program from a diverse pool of referral streams.
Do you currently have a formal fatherhood referral plan? If not, I encourage you to follow the steps I've laid out to create one.
If you currently have a formal fatherhood referral plan, which community categories listed in this article have you missed? Think outside the box as you look for relevant ways to motivate leaders in those categories.