This is the third video in the series featuring dads getting help from the 2014 Honda Odyssey as they "do good" around their communities. Hence, #DadsDoingGood.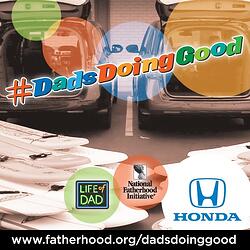 National Fatherhood Initiative (NFI) and Life of Dad (LoD) partnered with Honda on the "Dads Doing Good" campaign, which features groups of dads "doing good" in their community.
Our first video was of dads using the Odyssey as a "mobile library." Watch as the dads load up the Odyssey with books and surprise preschool children.
Week two featured Lemonade for Charity. This was another great example of how you, dad, can help educate and serve a much-needed cause in your community. The proceeds from the lemonade stand raised awareness for congenital heart defects.
This week, the dads use the 2014 Honda Odyssey to set up a remake a little league field. We call it "Little League Surprise." The dads remake a Little League field by replacing the pitcher's mound, backstop, & batter's box with help from a contractor, coaches, & players. Watch the video from NFI's facebook page:
Can't view the video? Click here.
Please share this video with the hashtag #DadsDoingGood. Remember, an involved father changes everything.
Visit our Dads Doing Good page for details and follow #DadsDoingGood on Twitter and Facebook.
NFI and LoD partnered with Honda for this campaign. The Odysseys were returned to Honda after the videos—and all dads involved wept.