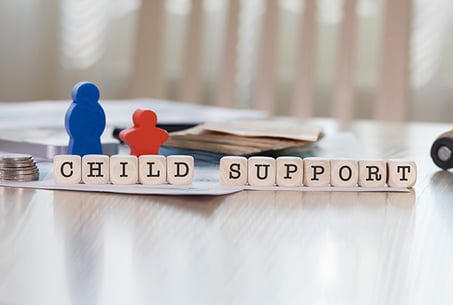 Positive Payment Pattern, or PPP.
That was the phrase used by Harold Coleman, State Access and Visitation Coordinator in Iowa's Child Support Recovery Unit (CSRU), to describe the impact of a program this state's child support agency implemented in partnership with local organizations to help noncustodial parents (NCPs) meet their financial obligation to their children.
In last week's post, I introduced you to Made Men, a Kansas City-based nonprofit that teamed with other father-serving organizations in that state to successfully propose a program that the state's child support agency adopted to reduce the child support arrears of dads—a "bottom-up" approach. Today, I'll describe a "top-down" approach in which a forward-thinking state child support agency created its own program and subsequently approached local organizations to help implement it.
The Case of Iowa
When I asked Harold what led to the creation of the Promoting Opportunities for Parents Program (POPP), he said that, in the early 2000s, the Iowa state legislature instructed CSRU to:
"…find ways to work with communities to pair employment services and noncustodial parents to assist NCPs to get back to work and overcome barriers to be financially responsible for their children."
CSRU decided that the best way to meet that directive was to partner with local organizations that ran fatherhood programs. By pairing child support enforcement efforts with such programs, it helped the agency to view dads more holistically, which in turn helped it to see all of the barriers to noncustodial dads engraining a positive payment pattern (PPP), such as a poor relationship with the mothers of their children. It also allowed CSRU to positively impact parenting, communication, and employment. The agency understood that if POPP could have a positive impact on dads holistically, it would increase the chance that they'd establish a PPP.
Partnering with Local Organizations
Implemented in 2002 as the Parental Obligation Pilot Project, the child support aspect of it centered on reducing the proportion of child support owed to the state. (Iowa doesn't allow for the reduction of arrears owed to the custodial parent.) CSRU chose to partner with a few local organizations with established fatherhood programs. This approach allowed them to experiment with what worked and answer questions, such as:
How could CSRU best partner with communities?
What should incentives for dads look like?
What must dads do to get debt forgiveness?
And that—partnering with established fatherhood programs—facilitated experimentation. The pilot didn't need to get fatherhood programs up and running. It was able to hit the ground running with a manageable number of partners that had for many years addressed dads holistically and that could more easily experiment to help POPP learn and adapt.
The Nuts and Bolts
Harold shared that the pilot helped CSRU learn that when the program improved noncustodial dads' parenting and communication skills it positively affected their employment skills, which got them into a PPP. The specifics of the program involved:
A formal agreement between CSRU and the local organization to partner.
A formal agreement between CSRU and each dad that, in exchange for participating in the fatherhood program, CSRU would reduce the debt owed to the state. Each dad had to agree to have his child support payments tracked.
The local organization had to use a research-based parenting curriculum, educate dads on domestic violence, address domestic violence when it arises, provide basic financial education, and educate dads on how to have a positive relationship with CSRU.
As in Kansas, CSRU implemented a program with tiered incentives. It reduced a dad's arrearages as follows:
15 percent forgiveness of state-owed debt if he made full, consistent payments for six months after graduation
35 percent forgiveness of state-owed debt if he made full, consistent payments for 12 months after graduation
80 percent forgiveness of state-owed debt if he made full, consistent payments for 24 months after graduation
Then…
Like so many state child support agencies, CSRU had limited funds to implement a program outside its normal operations. So, the state legislature had approved use of the state's Temporary Assistance for Needy Families (TANF) funds to launch and experiment with POPP. CSRU provided a small grant to each of the local organizations involved in the pilot.
After TANF funding for POPP ended in 2009, the program was at an inflection point. No longer able to provide funds to local organizations—and, yet, having learned so much about what works—CSRU continued the program by focusing on an unfunded partner that had joined POPP in 2008. That partner was the YMCA of Greater Des Moines. This Y had and still has one of the most successful fatherhood programs in the state. Called "Championship Fathering," it uses the evidence-based 24/7 Dad® program of National Fatherhood Initiative® (NFI). (To watch a short, inspirational video on the impact of the program, go to the bottom of this web page.)
Shortly thereafter, the Y acquired a grant in 2010 from the Annie E. Casey Foundation (Casey), a long-time supporter of fatherhood programs across the country. The grant allowed the Y to enhance its fatherhood program and partner more deeply with CSRU (e.g. to collect outcomes data) and to, eventually, encourage the Muscatine Community YMCA to join POPP. (This Y's "Dad's Group" also uses 24/7 Dad®.) Even after the Casey funding ended, both Ys have continued to partner with the CSRU to this day.
To measure the impact of the program on child support payments, CSRU worked with the Y of Greater Des Moines to track the child support payments of noncustodial parents* who graduated from the program. To do so, CSRU upgraded its technology to track child support payments before, during, and after participation in the fatherhood program.
The impact of the program on child support payments was impressive. Data from 262 program graduates on the average proportion of child support collected showed:
37.7 percent at baseline
68.6 percent at graduation
70.7 percent one year after graduation
65.9 percent collected four years after graduation
In addition, more than 50 percent of the child support cases were closed due to payoff.
…and Now
Unfortunately, the state hasn't been able until recently to expand POPP beyond the two Ys. CSRU partnered with NFI in 2018, however, to conduct a Father Engagement Experience™. The centerpiece of the resulting Father Engagement Game Plan™ included building a statewide coalition of local organizations with established fatherhood programs that will serve as the foundation for expanding POPP in the absence of additional funding from CSRU. NFI has continued to provide technical assistance to CSRU and the coalition since then.
I'm pleased to share that CSRU recently released a Request for Project Plans to expand POPP statewide! Local organizations interested in applying to participate in the program can submit a plan by February 25, 2019. The expectations for noncustodial parents, local organization partners, and CSRU reflect what CSRU has learned. Click here to download these expectations and here to download an overview of the current program. The expectations reflect modifications CSRU has made to POPP, which includes a sliding scale rather than an all-or-nothing debt forgiveness approach for payments made after program graduation.
What it Takes
I asked Harold what are the most important pieces of advice he'd give to any other state child support agency that wants to establish a similar partnership with local organizations. He said:
Recognize that your customers want to be good parents. They're trying to the best of their ability. They need assistance. They don't always know the right questions or how to ask them. They don't always have the support they need to be better parents. They might call and talk with you and say one thing but really need something else. Try to look beyond what they're saying and identify what is it they need to be successful. Good communication is a key aspect of serving parents, and this is where communication skills training can also improve their communication with child support. As they improve their communication skills, they become more proactive and take responsibility for getting what they need.
Nationally, child support enforcement has become so automated that we have lost interaction with parents. That's why partnering with local organizations can provide the personal interaction and the parenting education component that builds the communication skills that lead to better outcomes for child support.
Does our child support agency struggle to get noncustodial dads to stay current with their child support payments?
Have you thought about the value of partnering with fatherhood programs that serve noncustodial dads and that address their needs from a holistic perspective?
---
* Harold Coleman reported that a few of these parents were noncustodial mothers.