This post originally appeared at The Huffington Post.

"I think one of the true ways I've gotten smarter is that I've realized that there are ways other people are a lot smarter than me. My biggest asset as a writer is that I'm pretty much like everybody else. The parts of me that used to think I was different or smarter or whatever almost made me die." —David Foster Wallace



That quote from the American writer David Foster Wallace underscores one of the great lessons of life: There are plenty of people smarter than you, and you need to learn from them. This lesson applies to parenting.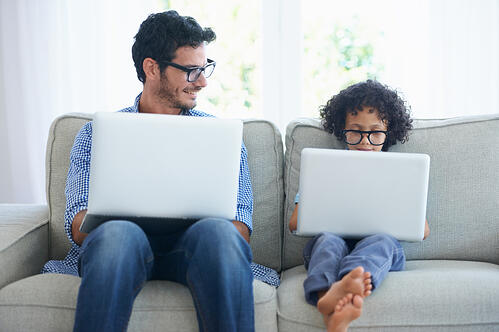 When I joined National Fatherhood Initiative (NFI) 15 years ago, my daughters were 5 and 2. I had only begun my parenting journey. I knew that I had things to learn about being a good father and parent. What I didn't realize was how much I had to learn. As the old saying goes, "You don't know what you don't know."
Fortunately, my boss was Wade Horn, the first president of NFI and a child psychologist. Wade is one of the smartest people I know. He's a smart father and parent who, as a child psychologist, knows a bit about how children are wired. The most important lesson I learned from Wade? Never project your consequences on your children. Just because I didn't have a negative outcome as a consequence of a decision to engage in a risky behavior doesn't mean that my children won't have a negative outcome if they engage in the same behavior. I've applied that lesson so many times I've lost count.
Wade helped me through several difficult parenting situations. One of those occurred about three years into my tenure at NFI. My oldest daughter had become an extremely picky eater. It drove me nuts because, since my mid-20s, I've focused on eating healthy and staying fit. The fact that I had a child who wasn't eating healthily signaled my failure as a parent. I had tried many of the tactics recommended by nutrition experts to get children to eat healthy. Not one of them worked!
I was at my wit's end when I asked Wade for guidance. He smiled and chuckled when I shared my frustration and concern for my child, which initially made the situation worse as he must have thought my concern to be ridiculous. But then he explained that a lot of young children are picky eaters because it's one of the few ways they can exert control over their lives. It's not necessarily the parents' fault.
He identified, however, one way that I might have indirectly contributed to my daughter's choice -- my own picky eating habits. He pointed out that my diligence in eating healthy is type of picky eating that my daughter had undoubtedly noticed at the dinner table and during conversations about eating healthy I'd had with her and my wife, and seen in several other ways I'd reinforced that form of picky eating. He encouraged me to keep trying to expand her tastes, but to also let the situation play out as many children's tastes expand, as they get older. (I'm happy to report that hers expanded.)
In my time at NFI, I've had the benefit of learning from many parents, especially fathers, who are smarter than me. These parents include NFI's second president, Roland Warren. Roland gave me more practical advice than I can share here. What was the most important thing I learned from him? Good fathers do three things well: provide, nurture and guide.
Other parents I've learned from include Stephen Bavolek, author of the internationally-acclaimed Nurturing Parenting Programs, who assisted me in developing the first editions of our 24/7 Dad® and InsideOut Dad® programs. I've applied much of the knowledge and many of the skills we teach fathers in those programs to parenting my own children. I've also learned from the countless fathers and mothers who have contributed their wisdom on parenting in this blog The Father Factor, and the many experts in parenting whose research on parenting effectiveness has informed the programs and other resources I've developed at NFI.
Don't wait until you're at your wit's end before seeking advice on how to be a better parent generally and in specific situations. Part of being a smart parent is realizing you're not as smart as you think.
Question > What's one thing you could use parenting advice on now?
Share your answer in the comment section or on
Facebook
,
Twitter
, or
LinkedIn
.
*The opening quote by David Foster Wallace is from Conversations with David Foster Wallace (Literary Conversations Series)
This post originally appeared at The Huffington Post.