OK dads, is spring finally on its way? Being from Minnesota, I'm ready to ditch the snow blower for the lawn mower! And, for those of you on the eastern seaboard, I'm sure you're doubly ready to kiss this winter good-bye…
Regardless of where you live, spring is a natural time to take stock of what you've accumulated around your home and life whether that be dirt and grime, general disorganization, or maybe some bad health habits like overeating or… The good news is, you don't have to take it on all at once – here are three of my favorite tips to get started: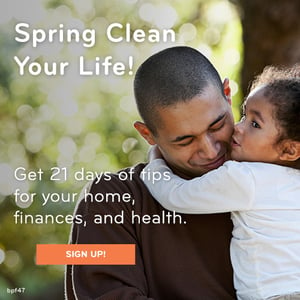 Tip 1 > Make sure your grill is in prime shape to fire up for the warmer months. It can be tempting to use harsh chemicals, but those can affect the finish. Mild soap and water is best. (Just be sure to disconnect the propane tank before doing anything.)
Tip 2 > No one can feel refreshed when bogged down by financial worry. Make time to sit down with your loved one to revisit your budget and financial goals. This goes for you, the leader, and for the dads around you. Online sites like mint.com can help streamline the process so you can get a better understanding of where your hard-earned money is going.
Tip 3 > Research shows that getting outside has many positive effects on your health, including improving relaxation and your immune system. Think about planning a camping trip for the summer and bask in the beauty of one of our nation's great parks. Check out a list of where to go here.
Want more spring cleaning ideas?
Spring Clean Your Life: Reorganize, Reprioritize and Reconnect by brightpeak financial is a 21-day email program created to help you tackle the post-winter cleanout – in all areas of life. Focusing on daily tips and activities, the program is designed to help you reorganize your home, reprioritize and revitalize your finances and reconnect to a healthier you. Get started today!
What's one thing you HAVE to do this spring in order to get life together?