Here in my 8th year at National Fatherhood Initiative, I am on the verge of becoming a dad for the first time. My wife, Claudia, and I are expecting our first baby any day now. Perhaps any hour now! Just this morning, my wife was having contractions. They do not appear to be the "real thing," but a definite pre-cursor to the big moment.
I will do my best to chronicle my experiences of becoming a dad here on The Father Factor.
In this post, I wanted to point out something that I had heard about in the abstract for many years, but now know to be true -- it is difficult for expectant fathers to feel connected to their coming baby. In the least, it is much more difficult for fathers than it is for mothers.
Even now, when we are probably hours or a few days away from having the baby, it still feels very abstract to me. I have read books, designed and decorated the nursery, gone through exercises and videos, seen the baby on several ultrasounds, but I know that this is not really going to hit me until the moment the baby comes out and is handed to me and my wife.
That, from what I have heard from other dads, is when the light switch flips on and you really know you are a dad.
In the meantime, I think my favorite activity during the pregnancy (aside from seeing the ultrasounds) was decorating the nursery. I hung a chair rail and, with my dad's help, put up a mural of a Beatrix Potter-inspired scene. Here is a picture: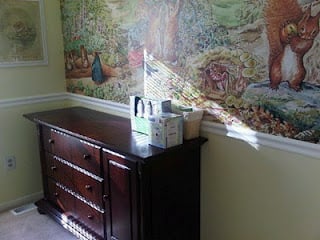 Stay tuned - it is likely my next post will be from the hospital right after the birth!