This is a guest post by Carlo Pandian. Carlo is a freelance writer based in London who writes on parenting, cooking and all things LEGO. If you would like to blog for us, email here.
Despite the global domination of the computer game, LEGO remains an eternally popular hands-on toy for kids. Of course it's not just a toy, nor is it just for kids, and plenty of teens and adults have proved that sculpture is not confined to the world of bronze and/or structural steelwork. You can create some amazing displays in LEGO, and for those with a family obsessed with these diminutive plastic bricks the good news is that LEGO-themed foods are easy to create. Whether it's a kid's birthday or just for fun, these LEGO-inspired tasty treats are easy to, erm, construct.
Basic Modelling
The shape of LEGO blocks is probably what makes them an ideal basis for a range of foods. Forgetting the mini-figures for the moment, the basic structure is very blocky! The studs on the top are relatively easy to create with a range of ingredients and a little imagination.
Let them Eat Cake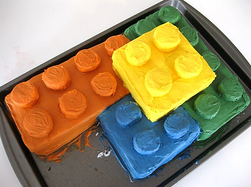 Admittedly, Marie-Antoinette and her family were not overly fond of blocks but, LEGO fan or not, who doesn't love a cake or two? Sponge, of any variety, can easily be baked in the required rectangular shape or, alternatively, a large square sponge can be cut into a range of different sized blocks. Circular sponge sections can then be placed to mimic the studs and the whole confection covered in suitable icing colored in bright primary colors like LEGO itself.
Made for Lego?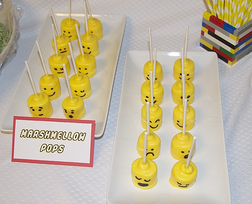 If bite-size Rice Krispie squares weren't designed to be adapted into a LEGO-themed treat then I can't image what was going through the head of their creator. Again, it's easy to cut the stud sections and apply them to the squares using melted chocolate. If you use a basic white chocolate mix you can add appropriate coloring, to create the final constructed confection. These are great served up on a plate or can be popped onto lollipop sticks – either way they tend to shift quickly, so make plenty.
Helping Hands

These are a combination of the above. Small pieces of cakes decorated with Smarties, to create the studs, can be covered in melted chocolate to create the desired form. Cake pops are not only popular at kid's parties but also tend to be one of those activities that younger members of the family enjoy getting involved in. When preparing them you'll need plenty of greaseproof paper to place the setting pops on, and plenty of kitchen-towel to wipe the kids with. A change of clothing is also a handy ingredient.
Healthy Alternatives Kids Will Eat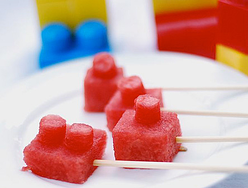 For those involved in the long-term battle of getting healthy fresh fruit and vegetables into smaller people, the watermelon is heaven sent. Sticky, juicy and tasty it appeals to kids in its natural form but can also be easily sculpted into melon-pops. Cut into squares and sculpt the Lego studs with an apple corer. It's a good idea to chill these, to resemble lollipops, but also to reduce at least some of the sticky/messy content that develops when you add a child.
Mini-Sculptures

Mini-figures are not, it has to be said, the easiest object to sculpt in any edible media, but sandwiches can provide an excellent solution. These can be cut into mini-figurine head shapes and the tops decorated with a range of expressions, using a little of the filling of choice.
Mom and dad: What have you built with your kids recently?
Carlo Pandian is a freelance writer and blogs on free time activities, parenting and LEGO covering everything from LEGOLAND Discovery Center attractions in Dallas to teaching recycling to children. When he's not online, Carlo likes cooking, gardening and cycling in the countryside.