One of the primary challenges faced by non-custodial fathers is how to effectively navigate the child support system. Research shows that when these fathers consistently pay their child support that their involvement in the lives of their children increases.
So how can you help them?
Helping fathers to effectively navigate the child support system is, consequently, a challenge for organizations that serve these fathers. A recent report from Public/Private Ventures (P/PV), Navigating the Child Support System: Lessons from the Fathers at Work Initiative summarizes this challenge within the context of workforce development and provides guidance that can help.
The report "aims to help meet this challenge by providing information, resources and tools to use at the intersection of workforce development and child support enforcement. The guide is based on lessons from the Fathers at Work initiative, a three-year, six-site demonstration funded by the Charles Stewart Mott Foundation, which was designed to help young, noncustodial fathers achieve increased employment and earnings, involvement in their children's lives, and more consistent financial support of their children." Moreover, it "describes child support enforcement regulations, policies and actions that can affect fathers' willingness to seek formal employment and participate in the system, and provides examples of four services that organizations might offer to benefit fathers and their families."
While this report can prove to be helpful for organizations working with fathers, National Fatherhood Initiative (NFI) offers a new tool that organizations can use now to help meet this challenge.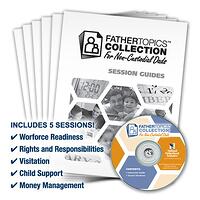 Available through FatherSOURCE™.org, the new FatherTopics™ Collection for Non-Custodial Dads contains five workshop sessions that organizations can use as stand-alone workshops or to complement their fatherhood programs (e.g. 24/7 Dad®) to address selected topics that are very important and helpful for non-custodial fathers.
Most importantly, The Collection includes a session that helps fathers to better understand the importance of providing child support. They learn what this type of support means for their children and for their self-identification as a father. And beyond that, it emphasizes the value of all types of support given by a father (e.g. financial, emotional, and physical). As part of the Child Support Session content, fathers meet a local child support expert/representative and learn about child support enforcement and how to navigate the child support system.
Other sessions in the collection focus on several additional critical challenges faced by these fathers:
Access and visitation
Workforce readiness
Money management
Fathers' rights and responsibilities.
In fact, the collection of workshops for fathers was field tested for one year by practitioners in New York City as part of the city's fatherhood initiative; the feedback from these practitioners and the fathers who participated in the sessions was overwhelmingly positive.
FatherTopics™ Collection for Non-Custodial Dads offers a total of five 2-hour sessions your organization can run for non-custodial fathers to help them succeed as involved fathers. Click the button below to learn more about how to implement these sessions with non-custodial fathers you serve.