A few weeks ago, we distributed a creative resource based on our recently-released Father Facts 7. We offered shareable images featuring statistics from our new edition of the most comprehensive single source of data on the impact of father absence and involvement.
The response, to say the least, has been incredible. I want to share some of the great feedback we are receiving on how organizations and individuals plan to use the shareable stats. Hopefully, reading how others plan to use the shareable stats will inspire you to educate people in a fresh way.
Since releasing our Father Facts 7 Shareable Stats, over 500 organizations and individuals have downloaded them. Before downloading the images, we asked them to tell us how they will use the shareable stats by asking them: "How do you plan to use these images?"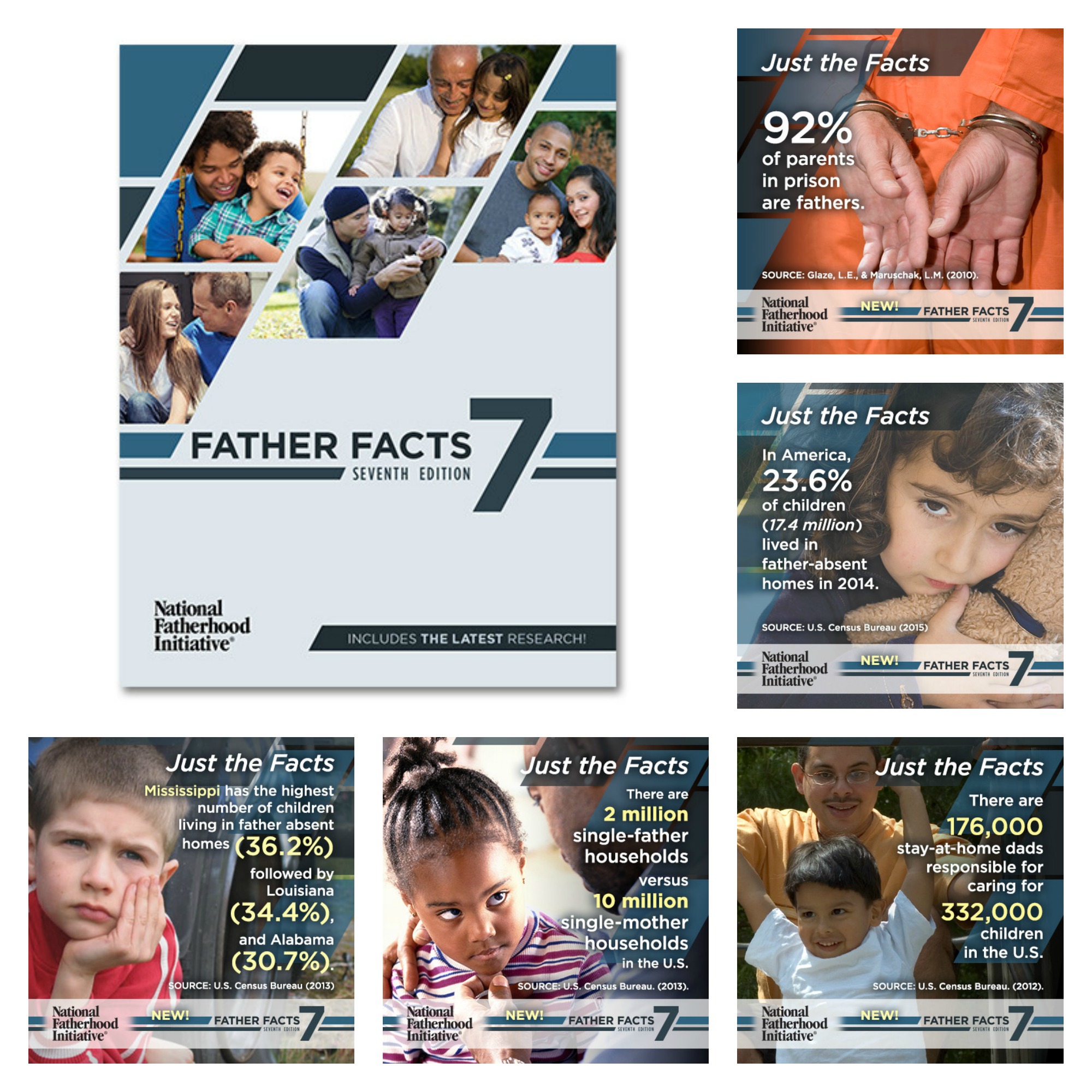 We received over 382 responses! Below, you will find some of the most popular planned uses. We also broke down feedback into categories so you can see how organizations and individuals that might work in a similar setting to your own plan to use these statistics. Hopefully, the ideas will help you plan how to use the shareable stats in your work.
Regardless of setting, most organizations and individuals plan to use the shareable stats in the following ways:
Share on social media channels like Facebook, Twitter, and LinkedIn

Educate and inspire fatherhood programs with newsletters, fliers, presentations, brochures, wall displays, and to supplement father program sessions
Attract more dads to programs and aid in community awareness of the importance of fatherhood
Display in offices and distribute at fatherhood events
Based on setting, here are the most common ways in which organizations and individuals plan to use them. Be inspired to share in ways you may not have thought about.
Community Action and Other Community-Based Non-Profits>
Share with potential investors and partners at expos and trade shows

Share with our Family Support Specialists and our teaching staff during home visits
Share with family court judges and attorneys about the importance of fathers
Church and Other Faith-Based Organizations >
Educate and inspire our Men's Ministry, as well as in donor and community education

Use at retreats, lectures, in seminars, workshops, conferences, and in small groups
Include stats in articles, on radio, in bulletins and in sermon illustrations
Place in new father packets and positive pregnancy packets
Use in client and donor communications as well as in our local newspaper.
Education and Health-Related Organizations, Head Start and Other School-Based Organizations, and Health Department/Hospitals and Other Healthcare Related Organizations >
Include on Parent Boards in Head Start Centers

Display in our Parent Room in the Neonatal Intensive Care Unit
Post as education for Postpartum Unit of associate hospital
Include in newsletter and family night information for parents, as well as for home visits
To help facilitate a father's group in a Community Parole Re-Entry Program.
Corrections and Reentry Programs >
Use in substance abuse groups with adult male inmates

Post for fathers to read on daily basis
Encourage and inspire dads to participate in school events
Government and Other Social Service Agencies >
Share with local legislators to reveal the importance of fathers

Broadcast to six state prisons reaching thousands of inmates each day
Use in meetings with foster care and preventive services agencies for sharing with birth fathers, foster fathers, and teen fathers
Post in the classroom as a way to encourage fathers to volunteer in the classroom and promote a male-friendly environment
Pregnancy Resource Centers >
Share in father packets and positive pregnancy packets

Use with men's mentoring program and donor and community education
Share with new dads when they come to our center to sign up for fatherhood classes
Military Installations and Military-Supporting Organizations >
Share with patients and to better myself as a father

Share and educate military families about this information
Use in outreach and information campaigns and in men's groups
As you can see from the responses above, organizations and individuals will use these shareable stats in diverse ways. We hope you can use them to help educate everyone you work with or hope to influence on the facts of father absence. If you haven't seen the shareable images yet, please visit Father Facts 7 Share. Please continue offering your feedback and sharing these vital statistics. Together, we can reduce father absence.
What's one way these Father Facts can help you serve fathers and families?
To learn more about grandfathers raising grandchildren, and to access the research and data, purchase and download Father Facts 7 today.