Each week, we will post a review of one of the four films National Fatherhood Initiative has nominated for the 2012 Fatherhood Movie of the Year. These will not be your typical movie reviews, but will instead focus on what in particular makes the movie a good "fatherhood movie." Our third entry is on Parental Guidance.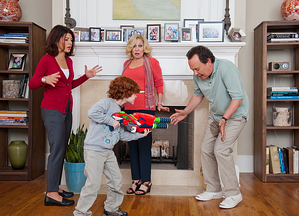 We recently had the pleasure of speaking with Andy Fickman, director of this film to get The Director's Guide to Parental Guidance. The movie stars Billy Crystal, Bette Midler, Marisa Tomei, and Tom Everett Scott. Crystal and Midler play Tomei's character's parents, and are grandparents to her and her husband's three children. Mom and dad have to go away for the weekend, and they struggle with leaving the kids with their grandparents.
The film does a great job of exploring issues around parenting, grandparenting, and marriage. There are several parenting themes in the film relevant to fathers and the film does well to shed light on postives and negatives of both the "old school" and the "new school" way of doing things. Here are a few examples:
1) Old School Versus New School: Technology
Perhaps not a main theme, but funny nonetheless, is the difference between how the "old school" uses tech and the "new school" uses it. For instance, the old school is depicted as not able to answer their phone; while the new school parents have a home that's basically a glorified Siri from the iPhone. I find this portion of the film hilarious. For instance, my dad never cared to own a cell phone; but now that he has grandkids, he owns a cell phone, can text me pictures and owns a laptop where he calls me to video chat via G+ and from his own Facebook account!
2) Old School Versus New School: Sports
A funny scene takes place over Grandfather (Billy Crystal) and the grandson's baseball game. Crystal learns the way baseball is played is very differenct than how he grew up playing. When Crystal played, you could actually strike out; whereas, in the grandson's game, the teams end in a tie and each batter hits until they get on base. There's plenty of comedy in this scene and viewers will find Crystal at his acting finest! In the day of giving every participant a trophy just for playing the game, I can see my dad shaking his head.
3) Old School Versus New School: Health
Health and parenting takes a role in the film when the "old school" parenting lets the children have sugar for the first time. The "new school" doesn't let the children have sugar. This scene, although funny, will have the "new school" parent thinking twice before letting the grandparent watch the kids. After having ice cream cake for the first time, the daughter in the film grimly points out to her mother, "you lied, yogurt isn't like ice cream!" The battle over creating a health-conscious family contrasted with an anything-goes diet of grandparents is center stage in this film.
4) Old School Versus New School: Discipline
One of my favorite scenes in the film is at dinner. The entire family goes out to eat. The young mom played by Marisa Tomei begins to give her parents a lesson on how to talk to the children. Tomei says condescendingly to her "old school" parents, "Where you would say, 'quit your whining, you're giving me a headache!'; we say, 'use your words!'" For parents, this is an entertaining topic of discussion sure to last longer than the film.
5) Old School Versus New School: Marriage
Marriage is not left out of this film. The "old school" wife played by Midler does well to point out, "after the kids leave, your husband is the only one there!" Contrast this with the "new school" of leading a very busy life focused almost exclusively on the kids, and you have a nice topic for future discussion with your spouse and parents. Parents and intimacy is shown in real-life. At one point early in the film, Tom grabs Marisa and takes her out on the patio, and with the kids going crazy in the kitchen, he gives her a kiss, and she says, "Oh, that's like a mini-date!" This film does well to depict the real difficulty of a busy family.
With regard to marriage and the mother-daughter relationship, Midler has a line that director Fickman says a lot of people responded to when Tormei says to her, "You always take dad's side." And Midler says, "Yes, because children leave, and I'm gonna be left with him. You hit college and you said goodbye and your father stayed." Midler aslo points out to Tomei, "You need to go and show your husband that you support him and believe in him and you want to be with him."
We learn from watching this film that your parents, for good or for ill, have an impact on you and how you parent. Oh, and that we all should relax, not take life too seriously and enjoy the family we have. Any movie that encourages a family to be closer; well, that's worth an award nomination in our eyes!
Connect with The Father Factor by RSS, Facebook and on Twitter @TheFatherFactor.